I finally decided to get myself a
Fitbit
. I ended up with the
Fitbit One
. Not really sure why. I guess it seemed to be the best 'fit' for me. (see what I did there? LOL)
So this is the Fitbit post I promised.
This is the one I chose: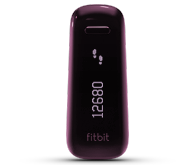 Intentions
. They were lofty, as usual. I was going to get this thing and it was going to change my life. No more sitting on my rear. I would be getting up and moving about the likes of which you've never seen! It was going to be great and the weight was going to fall off like the melting butter I love to ingest.
It arrived on Wednesday, July 2 in late afternoon. No matter. I charged that sucker up, set it up and put it on. I chose to wear it on my bra instead of my pocket since most of my lazy clothes don't have pockets (which is something I'd like to be a squeaky wheel about with the people who design workout pants without pockets). No problem except that I wondered if it was tracking my steps or my flopping boobs.
Reality
: I got in about 2500 steps that evening by getting up and jogging in place during commercials. Not too bad.
The second day, I started out ok, but then forgot I had it. Once I remembered, I was right back up trying to get in those steps. I started out easy, shooting for 10,000. I figured 20,000 was just too much.
Apparently, so was 10,000. I made it to just over 4,000. However, the third day, I did make 5,000. Something like 5,247. But that took an entire day. In my defense, it was all inside walking around because that was the day hurricane Arthur was passing us by and Tucker and I couldn't get out and walk because, at that time, it was raining. And I never thought to get back out there.
The fourth day was about the same. And we did get out there and walk so, not so good. But the fifth day? By the time 10:30 AM rolled around, I had already hit 5,296 steps!
Basically, I discovered quickly that just getting in 5,000 steps. I also realized that I had, once again, set lofty goals for myself that were just not obtainable in the first days. I have no idea why I do this, but I do. Every. Single. Time.
I decided to use the food tracker on Day 3. It wasn't difficult because I really thought to myself that it was no big deal. I would just eat whatever I want to eat. But that was erroneous thinking as well. I actually ended up thinking that I had to log whatever I ate so, did I really want to eat it? Was it worth the effort to log it or to try and remember to log it later? Probably not.
I also quickly discovered that I didn't know if the thing kept counting steps when it was updating. Because it takes a few minutes to update, I sat down and waited because I wanted every single step I could get to count. This isn't so bad as you don't have to update often. Which I know because I check frequently since I do get to sit down and rest while it's updating. But it is bad if you forget to use the bathroom before you start so you have to sit there and wait because, well, steps that don't register don't count.
Five days in I decided that I would start adding a Walk Away the Pounds workout to my daily routine. I was doing this before Birdie's wedding and, since I was having trouble getting in my steps, this just seemed like a good idea. I also went out and cut the grass. Well, some of it. The mower (the machine one, not I) ran out of gas. At least it did add steps! By 9:30, I had reached 6,423 steps!
The closest I got to 10,000 in the first week was 7,153. Oh well, never say die. I do realize that one thing I'm fighting (and it IS a losing battle) is the high humidity and oppressive heat around here. Even inside with the AC, it's not as easy to move around like it is when the weather is cooler. No, it's not an excuse. I mean, it does make it harder but my lack of effort is the real obstacle. If I cared enough, I would get up and get those steps in regardless of the weather. I think.
Thoughts
: the
Fitbit is ridiculously priced
. I am not happy that I had to pay as much as I did and I got it for less because I went to my old stand-by, eBay. AND, when you set up your online account, you find that there is one that comes with your deep pocket purchase and a premium one where you get to dig even deeper into your shallow pocket and give them MORE money. That being said, of all the trackers I've tried, the
Fitbit
is the best and most accurate that I've found. You really have to work to get those steps recorded. By this I mean, it doesn't track with every slight movement you make. You actually have to get up and walk or run. I also like being able to see the charts and progress on my FREE account. AND, it really is motivating. The closer I get to goal, the more motivated I am to walk further or find ways to be productive while moving around instead of sitting and wasting time. But I'm never going to be happy with that price. Never.
I'll keep y'all posted as time goes on.
Do any of y'all have one of these things?
OH, and just FYI- I'm not reviewing this for Fitbit or getting anything for it. I'm just posting for those of you who asked. :)